This One's For Our Furry Friends!
Welcome to the blog today! I don't know if you guys knew this, but May is National Pet Month, so today's blog post is all about our little furry friends! You guys know how much I love shopping at Walmart. They just have so much great stuff at amazing prices, so I'm gonna share some of my absolute favorite pet products from Walmart that we either use for our dog Owen or just stuff that I love if I had a cat! Which, by the way, Molly is so badly wanting a cat, so who knows we might end up with one even though I'm allergic! Ha!
The first thing I want to say is that if you have a girly pet, either a female or male that just has a little flare! Ha! Then I definitely recommend checking out the dog accessory line by Packed Party. Oh my gosh, the cutest, sparkly-est, most fun, little dog/cat accessories, ever!
Ok, I have to show you all these super cute little cat beds/houses. The first one being this adorable little angel bed that's only $22! I actually ordered this because I was hoping it would be big enough for Owen, but Owens a 45 pound dog, so I think that was wishful thinking on my part. Ha! But I'm gonna gift it to my neighbor who has a small dog named Hank. Honestly it is so so so well-made and COZY for only being $22. Plus, just the cutest ever!

I linked to other cat beds as well that I just thought was so cute. I mean the retro TV is just adorable! And still such a great price at $44.97! And then the little modern farmhouse looking one is also too cute!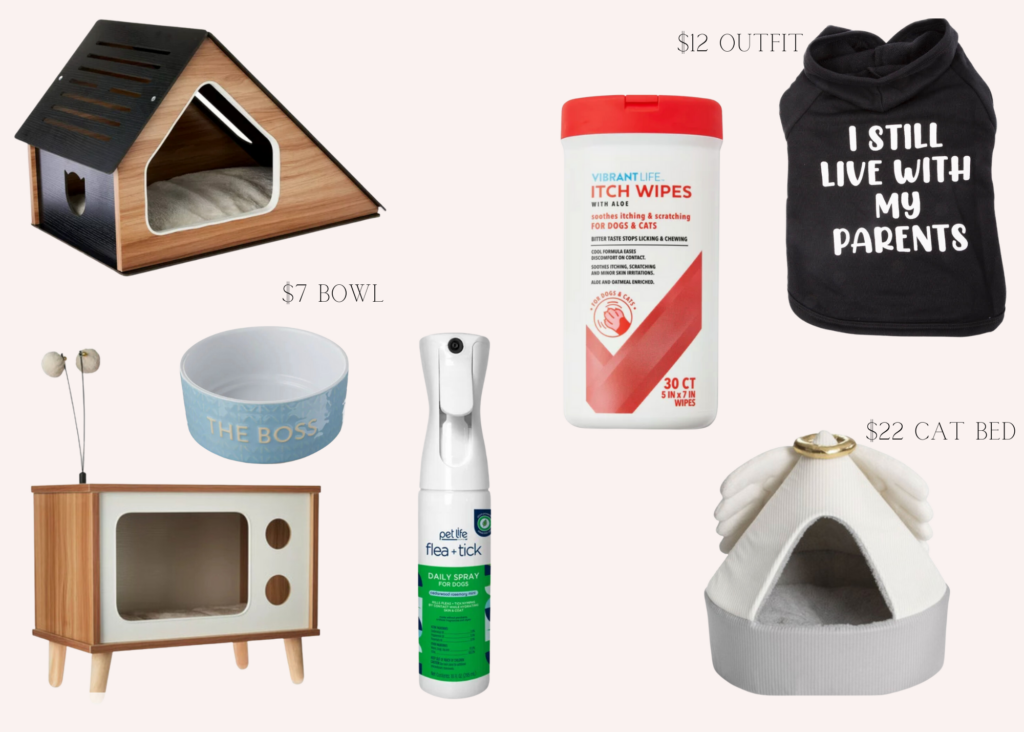 I know fun is this pet bowl for only $7! I love that it says the boss on it. This could be for a cat or a dog. Or any little furry friend you have walking around your house. Ha!
In terms of pet care items, we use these two products that I order from Walmart consistently. The first is the itch wipes. I use them on Owen's paws all spring and summer long because his paws get really irritated by the pollen outside, and then he ends up licking them RAW. I've noticed these itch wipes helped a ton! Check them out and read the reviews. That's what sold me on them.
I also put this flea and tick spray on him whenever he's gonna be spending a lot of time outside. So if we take him somewhere in the summer with a lot of nature, or he goes to the doggy day camp once a week that's out in the woods, I make sure to spray him whenever he goes there for the day! Fleas are very common here in Tennessee and I know they're common in a lot of other places, so make sure you get this. It's got a bunch of great natural ingredients to repel ticks!

Last but not least, oh my gosh, how stinking cute is this little shirt. I've taken Owen on a few walks wearing this when it's a little chilly out and I can't even tell you how many people stop us and comment on how much they love it. It always puts smiles on peoples faces when we walk by them, and then in turn, makes me smile. I honestly recommend getting something like this shirt for your pet if you are trying to meet new people and make new friends! It instantly has people stopping to pet him and strike up a conversation.
Well, that's it for me today! This post is a little different than what I normally do, so I hope you enjoyed it! I was trying to think of new things to write about her share, and I hope you found some thing for your little furry friend, that you love!